The power of discovering your purpose in life
How it all started for me
To this day 15 years ago, on 2nd May 2005, I left a well-paid, corporate position at Unilever to start working as a coach! The years before I had recognised that I became more and more energized and fulfilled through the developmental conversations I was having with my direct reports. Though developing my people was part of my job, the expectation of the organisation was that I was primarily leading strategic segments of technology development in R&D. This part of my job, however, was less and less motivating for me compared to all the conversations I had with my people.
Something had to change! Therefore, I privately booked a full day with a coach who I had worked with before on my leadership development. This one day full of reflection about my values, my sense of being and about what really energised me helped me to create the clarity I needed to see my way forward. At the end of that day it was clear for me that I had to follow my calling, my purpose in life. And I had a plan ready what I needed to do to pave that way.
So, the first description of my purpose was something like this:
Support people in recognising their potential and developing it to the fullest to live a fulfilled life.
Ready, steady, go!
On the 2nd of May 2005 I had formally registered with the inland revenue office in my county in Germany, which marked the starting point of my own business as a professional coach.
Having only been in the corporate world and abroad for 10 years it was rather interesting and in parts challenging to enter a market I had no previous experience with. Many colleagues thought that this would be a scary step to take. In fact, for me it was not scary at all. It was more like a natural progression as I had decided to follow my purpose which gave me all the energy I needed to build and grow my business as the Coach for Research & Development.
A core element of finding my way in this HR market and build a network with other professional coaches has been the International Coaching Federation (ICF).
A few milestones
Although my business plan was built with the assumption that it would take me 3 years to earn my living as a coach, it took me only 18 months to reach that point. My very first piece of work was a team development programme for an Associate Director at P&G Brussels whom I knew very well from our collaboration in an industry association. Many more exciting assignments for individual coaching and team workshops with him as well as a wide variety of other clients have followed since.
4 years later I started a new company with three former colleagues of Unilever, who had all left the corporate life to become self-employed with different focus areas. We joined forces and became Con-TACT – the Consultants for Technology Advancement, Coaching and Training. 11 years of great collaboration followed.
The last year brought me a big surprise when I was talked into co-authoring a book about Digitalisation in Coaching. If you had asked me years ago whether I would ever consider writing a book, my response would have always been: Never ever!  But, as the saying goes, never say never. In the end it was an enjoyable period to bring all my experience in virtual coaching and collaboration into this book hoping to help other coaches to dare entering this arena.
It was first published as an e-book on 17th April 2020 and will be available in print version from 20th May.
Let's celebrate!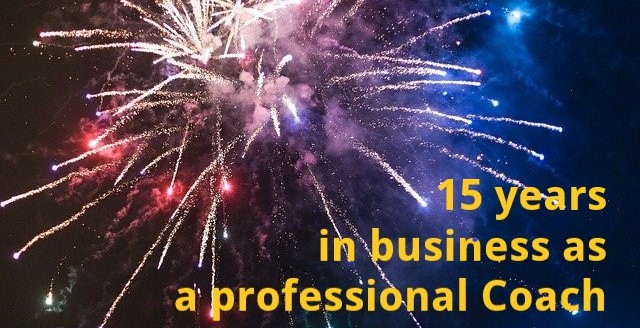 And today, 15 years after setting sail into what was unchartered territory for me, I am celebrating this anniversary filled with appreciation for and gratitude to our long term clients to whom we were able to add value in their business and all the individual leaders we have been working with supporting them in their personal development, the development of their teams and businesses.
Today will also mark the starting point for new ventures ahead where Con-TACT will soon be repositioned to the Consultants for Technically Advanced Coaching & Training. Stay tuned and watch this space.
And now it is time to raise my glass to celebrate 15 years of a joyful and successful journey driven by my purpose in life and supported by so many fantastic people around me! Thank you all!