Join free informal exchange with other leaders on topics relevant for you
We offer you a unique place for interaction with leaders from other businesses to interact in an informal way and get new perspectives. This helps you to meet new people and discuss challenges related to leading others, especially in leading and interacting with dispersed teams. You don't have to get out or travel as we offer you a lounge in a virtual setting, the Virtual Leaders Lounge or VLL.
You don't have to leave the office to meet other leaders
The idea is simple: we offer people a 45 minute highly interactive online session on a specific topic with 10 people present in the virtual lounge. We have extensive experience in facilitating this type of interaction. So, this is not about a webinar with PowerPoint presentations you have to listen. No, it is about having a real discussion and interaction on subjects that are relevant to you day-to-day. It is really amazing how appropriate facilitation in combination with the willingness of people to interact can result in new insights and inspiration.
Experience opportunities of virtual working in a virtual setting
We have piloted this idea for some time now and received very positive feedback. People indicated that they perceived it as a great opportunity of informal exchange and learning. Others used it as a reflective moment where they could share some thoughts and ideas openly. Especially when dealing as a leader with issues related to working with virtual/dispersed teams it makes sense to discuss and interact in a virtual way yourself.
You don't have to meet face-to-face to have a valuable discussion
It is our firm belief that virtual/remote working is becoming the norm. Still many people have the limiting feeling that people should meet face to face for real interaction that adds value. We strongly believe that this is not the case. This can be achieved in a virtual setting and we have a lot of experience that supports it.
Therefore, we offer you free access to our Virtual Leaders Lounge (VLL) to experience it yourself. This will give you the opportunity to discuss current issues with likeminded leaders. And it can at the same time help you to explore further the possibilities of virtual interaction and virtual working. Both supports your leadership when dealing with virtual teams and virtual working.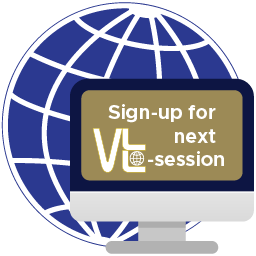 Register to be invited for one of 10 seats available per session
The only limit with our VLL is that we only have a maximum of 10 virtual seats available per session. This is to ensure an effective exchange and involvement of everyone. So, if you are interested, register now and you will get a personal invitation to join the next sessions when they are scheduled.
Looking forward to meet you in our lounge!