Attention to small "aside" things make for better virtual meetings
In previous blogs I have described various aspects that influence the perception of the quality of virtual meetings and the engagement of people. If you have missed these blogs check them out here. Working as a virtual coach and facilitator for years, I'm paying more and more attention to the setting in my office and other factors while running a virtual meeting. Of course, the facilitation skills themselves are also important, but these details can make a huge difference. As a participant in virtual meetings or workshops I very often observe that a lot of people don't pay attention at all to these side factors which can create distraction or disturbances. In two blogs I want to share my experience and considerations in relation to set up and audio quality. This can help to make virtual work a more pleasant and also effective experience.
In this part one I will focus on the setting of backgrounds and lights when sitting in front of a WebCam and participating in a meeting.
The background sets the scene!
Although a background is not the most important factor for successful meetings it creates a certain impression and also contributes to the meeting and its atmosphere. I have been in so many meetings where people either had a background with lots of movement or with lots of items to distract one's attention. When I initially started paying more attention I chose to have a grey background. Though it does certainly not distract attention it becomes very boring over time.
In the following two pictures I would like to show how my background looked many years ago -and that gets worse when you can read the book titles- and how it looks now to illustrate the difference a carefully chosen background can make.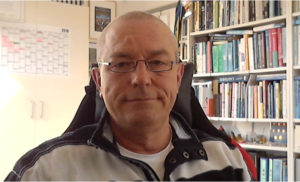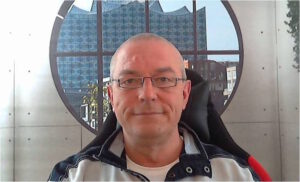 Though it's not the most neutral background, it doesn't have too many items to distract from a discussion/conversation. It actually, in my experience, helps for the check-in round in a virtual meeting as it raises interest about the building in the background.
If you're wondering what I mean with the check-in round read one of my previous blogs.
Ever since I've been using this background people were commenting how calm the setting of my office comes across.
You don't have to change office or completely redecorate your existing office, by the way. Often some rearranging of things or the place where you sit for virtual meetings is sufficient to create a background which is less distractive. I achieved the background by getting a photo printed on a banner.
If you want to get some tips how to achieve this change, please get in touch with me.
Put yourself in the best light
Years ago, when video transmission took a lot of bandwidth many people argued that the use of video is not important in virtual meetings. Depending on what you are trying to achieve with your virtual meeting, video connection can be very important but -in bad cases- distract from the objectives. Read more about this in the following blog.
However, in situations where a visual connection is important, for example in a feedback conversation or team discussion, the quality of the video and how a person's face is lit up is important. Why would one want to use a video connection if the background light creates a black silhouette? I have seen this so many times! The balance between background light and foreground light is, in my experience, important to create a natural appearance of the person's face. In the following two you can see these effects.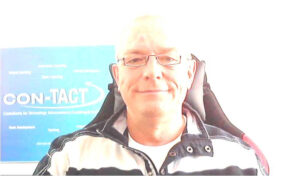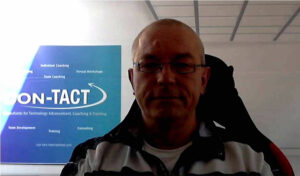 Sometimes I see people's face being lit up by the blue background light of their computer screen making it very unnatural and pale. Therefore, I recommend to have an indirect light behind the computer screen which is then reflected over the wall and very much diffused when it lights up a person's face. For this indirect light I pay attention to the colour of the light!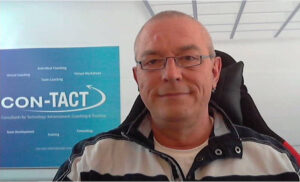 When I bought the LED light I looked for a yellow-ish colour. As I'm not an expert I am not able to define what range would be ideal. On the lightbulb I'm using it describes the light temperature with 2700 K. In principle, the lower the number the warmer the light. You find more information about light temperatures through this link.
For me it makes a big difference as my face appears in much more natural colours which reduces the artificiality of virtual meetings.
Too much fuss?
Some may think I'm making too much of a fuss about the setting. My experience with interacting with other people is that it helps in creating an enjoyable and focused environment where we can be very productive in the virtual interaction.
If you want to explore this further and would like to have some input please do not hesitate to get in touch with me.
In part two of this blog (next week) I will focus on how to control the audio quality and share my experience what bad audio quality can do in feedback conversations and heated discussions as well as how to avoid it. So, watch this space and come back next week.
Join us online!
We explore this and other business relevant subjects in our Virtual Leaders Lounge. This is an informal online meeting of maximum 10 business leaders where we discuss challenges in virtual teams and organisations and share best practices. No PowerPoint is used no prep work required!
Check it out here or register direct so you get the invitations and have a chance to get one of the 10 seats available for a lounge session.