… and not limited to multinational companies
Some years ago it was my firm belief that virtual working was only found in multinational companies: people across the globe working on the same task or project need to work in a virtual way. Those dispersed teams have special needs compared to teams that work together face to face. As a (team) leader you need to be aware of that and act accordingly. However, virtual working in one way or another has by now "infected" also all local organisations I work with.
Some factors driving the increase of virtual working
In the past people went to their workplace and did most of the work there. For employees involved in e.g. production processes, this is of course still often the case. However, in this era of Knowledge & Information Workers a lot has changed: more and more people can work also from home.
In a recent study in the Netherlands (CBS report Social Economic Trends, January 2017) it is reported that in the Netherlands 22% of the workforce works incidentally at home and an increasing group also at a fixed day in the week. Besides that, in the western countries a lot of people work part time. In the Netherlands almost 50% (!) of the workforce is working part time (2016: 48% base on numbers from CBS). As stated by the OECD, a successful combination of work and family/social life is important for the wellbeing of people. Working part time or the possibility for working from home can support this.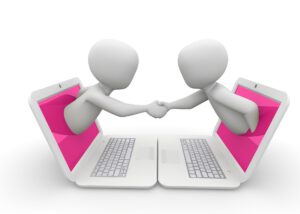 Local teams transform into virtual teams
However, these factors impact the actual physical presence of people in the work place. For team leaders this implies that it is very hard to have the team together face to face. Team members need to deal with the ever changing presence of their direct colleagues. In this way, the local team becomes more and more a kind of virtual team!
I realised this some time ago and also the consequences: the tips & tricks for high performing virtual teams are also valid for those transforming local teams simply because they become more and more virtual teams.
Some essential tips for transforming local teams
I like to share some tips for these transforming teams which I have found to be very useful:
Review and reflect on a regular basis: are things still working ok or do we need to adjust our processes, way of working etc.
Have a strong communication protocol in place: how do we communicate, what do we expect, what are our rules?
Have the right IT in place: make sure that you have good IT tools to support the team and ensure proper training as well.
It is my belief that following these three guidelines can help you to get a stronger (semi) virtual team!
As this is such a highly relevant aspect of today's leadership practice we are offering the first 10 leaders who register with us a FREE OF CHARGE 30 minutes individual consultation on how to best apply these tips in your own context.
Please register under the link below so that we can get in touch with you.