The following is a conversation I had with Dr. Chris Johnstone about his new book about resilience and positive change.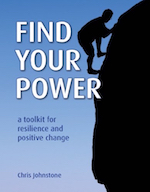 About Chris Johnstone:
Chris Johnstone is a medical doctor, addictions specialist and empowerment coach with over twenty years experience of training people in the skills and strengths of positive change.
He qualified in medicine, with distinction, in 1986, after a first degree specializing in psychology. In 1989, he made international headlines when he launched a ground-breaking legal action challenging the long working hours of doctors. Although initially dismissed as a no-hoper in law, after six years and ten court hearings, he eventually won his case.
The experience that you could defy pessimism and bring about a successful outcome, even if this initially seemed unlikely, stimulated an enduring interest in the psychology of breakthroughs. He trained in a wide range of approaches to facilitating change, including humanistic psychology, motivational interviewing, positive psychology, family therapy, groupwork and systemic interventions with organisations. Applying these approaches in the addictions field and in his training work, he further refined the tools he presents in this book.
Key messages from the interview:
In a deep crisis we will get hits and we have to accept these hits as emotional bruises and need to take care of them just like we do with a physical bruise.
We can prepare ourselves better for future crisis and rough times through a kind of scenario planning where we think through various scenarios and prepare our responses.
We can use a method which Chris calls the SSRI approach. He uses this in analogy with the drugs containing SSRI (Selective Serotonin Reuptake Inhibitors, a group of drugs that include Prozac) which are the most commonly prescribed anti-depressants. In his approach this means: Strategies, Strengths, Resources and Insights. Have your strategies thought through, focus on your strengths, be conscious of the resources you have available, and gain insights through using contacts.
He emphasizes that such self-help processes can also have a powerful anti-depressant effect which has been demonstrated in various research studies.
Find a review of the book here.