We live and work in  "VUCA" surroundings
Many companies are operating in a business context which is more volatile than ever. Uncertainties of market dynamics have been boosted through America's steps towards trade wars. With all the complexity we face in a global economy and the inherent ambiguity leaders face challenge like never before. This world has truly become a VUCA world.
Do you wonder what this four letter acronym means? If you know what it is, just skip the following paragraph and continue reading further down.
VUCA stands for:
V = Volatility
U = Uncertainty
C = Complexity
A = Ambiguity

The usage of the term VUCA began in 1987s. It originates from military vocabulary and has been subsequently used in emerging ideas related to strategic leadership thinking. VUCA is often used to describe how people view the conditions under which they make decisions, plan forward, manage risk, foster change and solve problems. Read more about it here.
Dealing with a VUCA environment
Considering all these aspects it becomes very clear that one of the key success factors for a leader working in a VUCA environment is the person's and the organisation's agility. Here, agility means the power of moving quickly and easily, taking decisions on the fly and operating with high flexibility in order to adjust to rapid changes of the context. This requires a new set of competencies and skills!
So, what are these skills and competencies? Rather then reinventing the wheel I have decided to present in this blog post a book about Leadership Agility which describes exactly what I consider important for leaders who want to become skilful when operating in a VUCA world.
Leadership Agility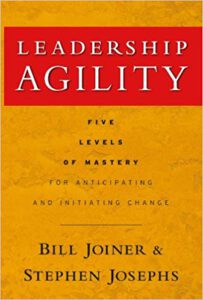 The title of the book is "Leadership Agility: Five Levels of Mastery for Anticipating and Initiating Change". It was written by William B. Joiner and Stephen A. Josephs.
Let me summarise my view on the key messages from this book:
The authors describe an agile leader as fully present "in the moment," with the ability to engage with events, yet at the same time being able to step back and see problems from different perspectives.
Sign up to our virtual leaders lounge  and you have the chance to get one of 5 books "Leadership Agility".
The corner stones
All aspects of the book are built on two corner stones.
The first of these is that Joiner and Stephens approach Leadership Agility and its development through an integral approach. One part is the classical 'Outside In' competency development and the second more integrative part is the 'Inside Out' development of deeper mental and emotional capacities.
The second corner stone is the theory of stage development of human beings when growing up, which emerged in the late 1950s from Erik Erikson et al.. Joiner and Stephens relate their Leadership Agility levels, described later, relatively close to these development stages.
The authors describe a piece of research which involved more than 600 managers. In this study they analysed the agility and its quality demonstrated by the participating candidates in connection to three critical areas of leadership effectiveness which they classify as. 'Pivotal Conversations', Team initiatives ' and 'Organisational initiatives'.
5 levels of evolving agile leaders
The analysis of the study data enabled the authors to distinguish five levels of Leadership Agility, as follows:
The first (lowest) level headlined as "Expert". About 45% of all leaders operate on this level of Leadership Agility
The second level is described as the "Achiever". Leaders at the Achiever level – about 35% of all– are more reflective than those at the Expert level, having grown beyond the level of knowledge based behaviour.
The third level is specified as the "Catalyst". Those on this level are sufficiently agile to succeed over the long term; only about 5% of all leaders reach this stage.
The fourth level is labelled as the "Co-Creator". Co-Creators – roughly 4% of all leaders – gain a profound understanding of all the connections between the business environment and everything else that makes up life.
The highest level, level 5, is called the "Synergist". At this highest level of agility, the person has developed extraordinary qualities of sustained awareness of the whole context and present moment. Based on the author's analysis only 1% of all leaders have reached the stage of the Synergist.
You may wonder how this could help you in your day-to-day life as a leader of an organisation where being more or less constantly at the brink of turmoil requires quick action and flexibility in thinking and doing. I consider the above-described levels of agility quite helpful in order to determine at what level your current agility is and to reflect at what level you would want to be considering the challenges you face within your organisation. Hence, it helps to map the territory for your journey of leadership development.
So, what do the authors offer as advice regarding the development of Leadership Agility?
4 competencies for Leadership Agility
In the above-mentioned study they also determined that in order to move forward in your levels of agility you should concentrate on four competency areas within which to develop the skills driven by your mental and emotional capacities.
The four competency areas are:
"Self-Leadership Agility"
"Stakeholder agility"
"Context-setting agility"
"Creative agility"
In order to develop these competency areas progressively and ultimately to master them, a very individualised programme of a mix of training modules, action learning groups and personal coaching may be the best solution for you.
On one hand I recommend every leader to read this book. Alternatively, you can get in touch with us direct and have an exploratory conversation about how to develop your leadership abilities to meet the challenges of your particular surroundings most effectively and through training and coaching support get a sense of fulfilment in your leadership role.
Join us online!
We explore this and other business relevant subjects in our Virtual Leaders Lounge. This is an informal online meeting of maximum 10 business leaders where we discuss challenges in virtual teams and organisations and share best practices. No PowerPoint is used, no prep work required!
Check it out here or register direct so you get the invitations and have a chance to get one of the 10 seats available for a lounge session.
When you sign up to our Virtual Leaders Lounge you have the chance to get one of 5 books "Leadership Agility" for FREE posted to you.