For the creation of High Performing Teams a proper Team Kick-Off is essential
Over the years I had the privilege to work with many teams in a wide range of settings. They varied from localised, national project teams to globally dispersed international teams, ranging from focussed business teams to works councils. Initially, I had the role of team leader, now already for almost 15 years I have been facilitating teams as trainer and coach. Based on this experience I recognised the importance of a proper Team Kick-Off. Teams that invest time and energy in starting and forming the team have a greater chance of reaching high performance and -perhaps more importantly- enjoying the team work. In this blog I share some of the elements which I consider essential for the Team Kick-Off.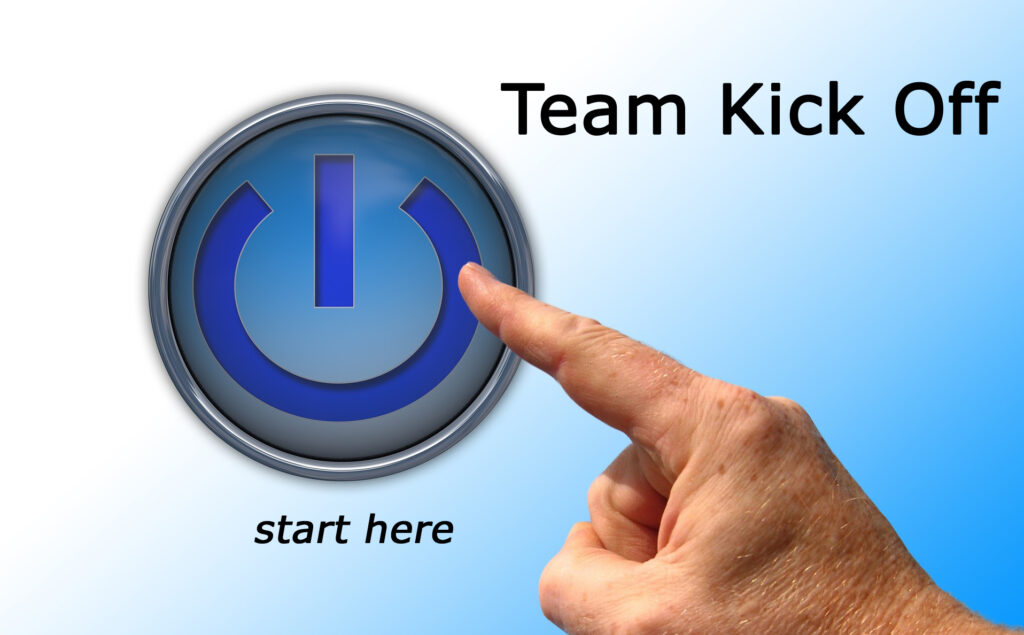 Getting to know each other
Perhaps obvious, but often neglected: it is important to give the team members time to getting to really know each other. In the Kick-Off meetings for teams I work with we generally use instruments related to personality types (e.g. Belbin Team roles, MBTI, DiSC, Quinn Roles, Management Drives or others as appropriate) to generate a "common language" for and understanding the human diversity in the team. Besides this element I often use Experiential Learning in the Kick-Off meeting as well: let the team work on assignments and use games related to team work. In working together in a different setting than the normal work environment, people get to know each other through a different perspective, have fun with each other and this generally strengthens trust within the team.
A Kick-Off meeting is preferably face-to-face, but that is not always possible. In the latter case it is important to think about alternative ways to realise a Team Kick-Off. It is our firm belief that a well designed virtual meeting can also be an effective Team Kick-Off.  If you face such a situation, get in touch with us to assist you in a virtual Kick-Off.
Clarity on direction and roles
A second important element for the Team Kick-Off is creating clarity on the mission or purpose of the team. Most of us need clarity to help us setting our compass related to the team. Having a shared and accepted purpose as well as a goal is extremely important, so you better create clarity about this right from the start.
Additional points for clarification are the different roles in the team. Be clear about them and especially about the expectations: what are the expectations for each role, not only on a task level but also on the behavioural side? What is expected from e.g. the team leader? A directive approach or more a coaching attitude? It is my experience that not being clear about expectations results often in disappointment, irritation and may be even conflicts and destruction somewhere down the line. This is negative energy which slows down the team.
Define 'playing' rules
Define clear team rules during the Kick-Off: what are the essential rules we need in our team? At least the team must define communication rules. How do we communicate? How often do we meet, how do we use e-mail and other media? Also be clear about expectations: do we expect a 24/7 attitude or not? What is the preferred/expected response time on e-mails?
Final aspect to cover at this stage is to define and agree the essential processes the team will use. A good example is the decision making process: How do we do that as a team? What mechanism do we use? But also processes like information sharing and storage need to be clear for all involved.
The Kick-Off meeting is about setting the scene for the team and to initiate the "chemical bonding" between the team members. Next step would be a review of the team dimensions after working for some time together; we call it maintenance.
This team maintenance will be the topic of a future blog.
If you want to discuss this subject further get in touch with me direct or check our Virtual Leaders Lounge agenda.
Join us online!
We explore this and other business relevant subjects in our Virtual Leaders Lounge. This is an informal online meeting of maximum 10 business leaders where we discuss challenges in virtual teams and organisations and share best practices. No PowerPoint is used, no prep work required!
Check it out here or register direct so you get the invitations and have a chance to get one of the 10 seats available for a lounge session.